Careers
"If You Have Enthusiasm,
A Positive Attitude And a Solid educational Background,
I Have A  Fun And Fulfilling Job as a Personal Trainer For You!"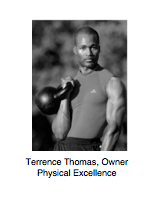 Dear Prospective Employee,
 First of all, thanks for taking the time to visit this site.  It's my hope that you have precisely what I need in an employee so I can take this page down immediately and put you to work in the fun and rewarding job I have available.
You should have arrived here because you saw my employment ad in craigslist that reads like this:
Personal Trainer/Exercise Coach Wanted!
Excellent attitude, people person, growth/bonus opportunities
So, let me tell you about me, my company and the job.
My name is Terrence Thomas and I run a company called Physical Excellence Coaching in Davie, Florida.
Physical Excellence Coaching is a health, weight loss, sports performance coaching and consulting company. We are unique in that we take a holistic approach to coaching our clients. Holistic means that we teach our clients about healthy lifestyle choices, organic food, managing one's lifestyle according to the laws of nature, and teaching our clients about the connection between the mind and the body.
 My studio is located at 5001 South University Drive in Davie, FL 33328. It is ½ mile south of Griffin Road on University Drive (west side).
If you are hired for this job, you'll need to come to the office Monday-Through Friday from 8am to 2pm. The starting pay will be $12/hour and after the 90-day trial period, the pay will increase to $15/hour based on your performance evaluation.
Personal Trainer/Exercise Coach Job Descriptions
OVERVIEW:        To provide fitness training and coaching to assigned clients to ensure safety and facilitate performance towards their planned goals.
SPECIFIC FUNCTIONS:       Greet clients upon arrival
Review client worksheets
Discuss activities since last workout
Review upcoming exercise program
Coach client through exercise program
Remind client of next workout
Complete training worksheet
Review worksheets with supervisor
Make sure there are no surprises
Attend all meetings when requested
REPORTING STRUCTURE:   Report to assigned Supervisor; you supervise no one.
QUALIFICATIONS:               National Personal Trainer Certification (NSCA, NASM, ISSA, ACSM) CHEK Exercise Coach or higher preferred or successful completion of CHEK Program Design Certificate.  Exercise Coach must have Excellent verbal communications skills.  Excellent listening skills.  Adept at adjusting to people's moods and personalities.  Must have the emotional stamina to be "at your best" with each client. 
How To Apply
I'm looking to hire the right person April 1st at the latest.  So if this job sounds good to you, follow these instructions now.
Here's what I want from you.  NOTE: Failure to follow these instructions will result in your resume going in the circular file.  This is your first test, okay?
Write me a letter explaining why you are the perfect person to fill this position.  Include full contact information (name, address, phone, email) on this cover letter.
On a separate sheet of paper list at least three references with phone numbers and what your relationship is with the reference (i.e. previous employer, college professor, etc).
Put the cover letter on top of your resume and the reference sheet underneath your resume and staple everything together.
Physical Excellence Coaching
5001 South University Drive, Suite C
Davie, FL 33328
I will review your resume.  If we feel you're a good prospect, I'll call or email you to set up a personal interview.
The sooner I get your resume, the better.  This will not be a long, drawn out process.  I believe in taking action quickly.  So get your resume over to me pronto!  I look forward to reviewing it and hopefully meeting you personally.
Again, thanks very much for your interest,
Terrence
P.S. This is not a corporate type of structured job.  I am an entrepreneurial small business owner.  I move quickly to capitalize on opportunities.  This is not the type of job where just showing up is enough.  Performance is everything to me.  If you perform, you will be rewarded.  I want nothing more than to find a person who takes real interest in doing good work and contributing to the growth of the business.  If that's you, I promise that $15/hour is only the starting point.  I recognize and reward performance!
With all that said, as I mentioned in the headline on this page, enthusiasm and a positive attitude go a long way in my book.  I'm a very positive, upbeat guy and appreciate those qualities in others.  As long as you have the basic skills I mentioned, and a great attitude, you're definitely a candidate!  So send me your resume today!